Films, Non-Woven Scrap Disposal System
The film scrap edges are mainly produced by splitting machine trimming processing. It's widely used in compound printing machine, food packaging film machine, PP/PE of photoelectric material industry. Normally have two transmission ways:
1. Adopts no cutting transmission way and convey wind into venturi device by high pressure blower, it causes large negative pressure around feeding inlet of venturi device which suck the scrap film into venturi device, then scrap be delivered into storage place or fall into baling machine by pipes and separator, very less dust air discharged by cyclone, could equip with paper filter dust collector to collect dust air.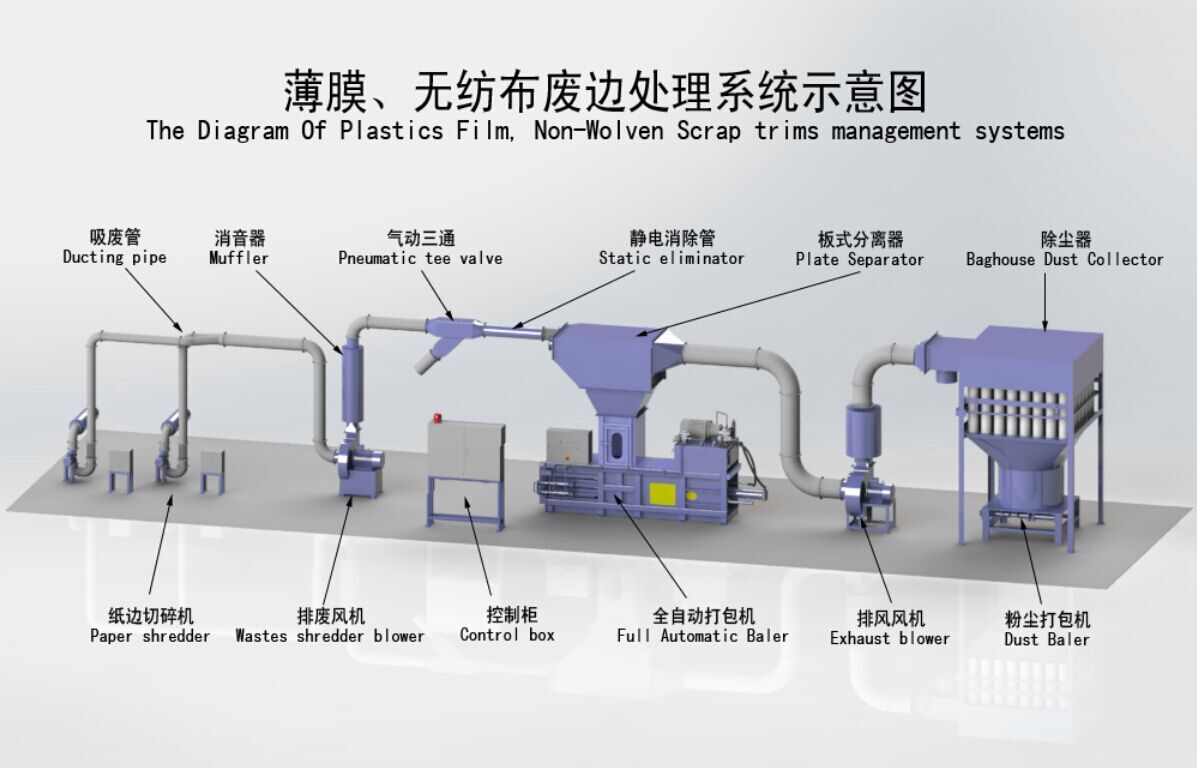 Related Baler Machine
Steel/Oil Drum Baler

December 14, 2020

Steel/ Oil Drum Baler with spikes in the press plate can easily compress various steel drums without explosive content up to 200L, greatly save space and convenient for transportation. Pressure: 20 tons Baling Chamber Size: 760*760*1100mm Bale Size:

view
Soft Plastic Balers

November 14, 2016

Soft Plastic Balers are widely used for compressing all kinds of soft plastics like PE/PP films. Pressure: 30-50 tons or more Feed Opening Size: (1100-1200)*500mm Baling Chamber Height: 1400-1500mm Bale Weight: 60-350kgs

view
Textile/ Clothes/ Wool/ Cotton Balers

November 14, 2016

Textile/Clothes/Wool/Cotton Balers are widely used to compress second-hand clothing, comforters, shoes, wool, cotton etc. Hydraulic lifting chamber door improves the work efficiency, conveniently for packaging and the '#' tying. Pressure: Up to 150 ton

view