Printing Factories Paper Scrap& Dust Disposal System
Professional for the printing industry's waste paper collecting and baling system to provide a reasonable and efficient design, stable operation, reduces dust pollution, waste paper recycling efficiency significantly improved. It has solved the waste discharge problems of the equipment such as binding moving lines, Nail riding linkage line, glue binding machine, three-knife trimmer etc.
The waste scraps are sucked into the blower, after being cut off, the scraps are transported to the cyclone through duct finally fallen into the waste paper baler. The dust air flows into the bag-type or pulse-type dust collector, and the clean air is discharged into indoor or outdoor. Dust through the professional dust baler compressed into blocks, convenient for accumulation and transportation. The complete system dust removal efficiency can up to 99%, is the ideal waste disposal system for printing industry.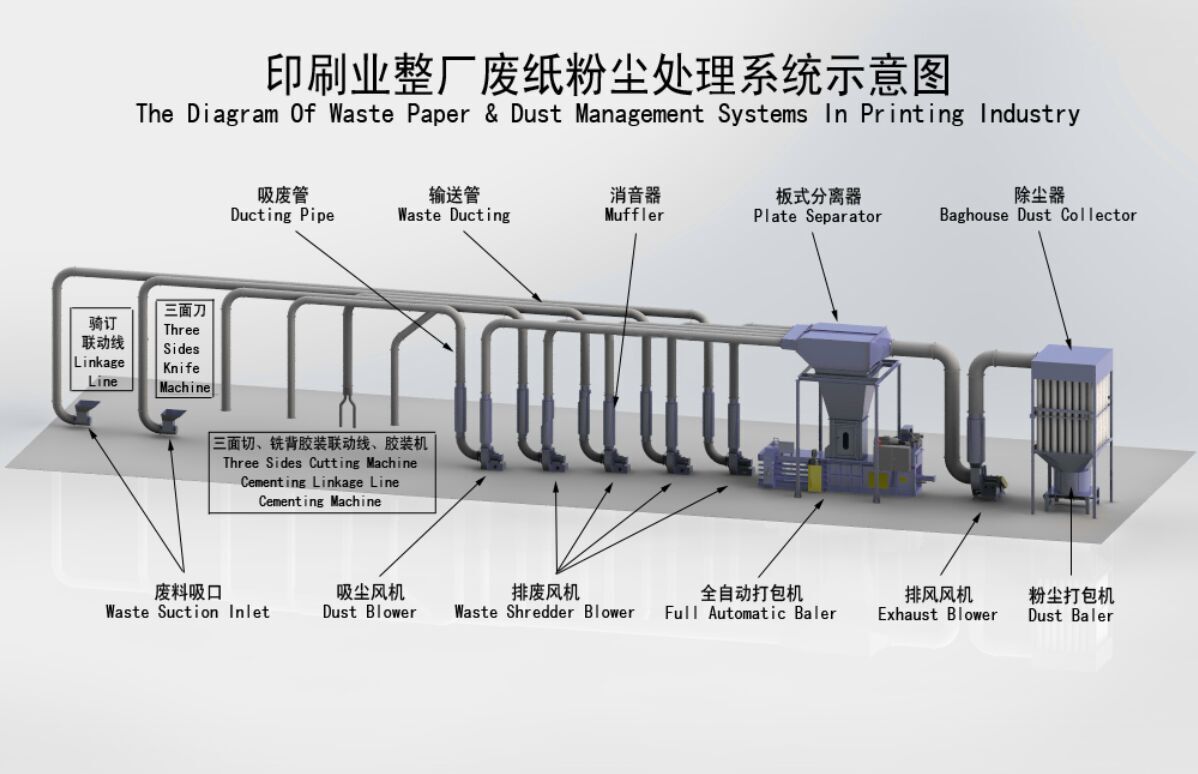 Related Baler Machine
Soft Plastic Balers

November 14, 2016

Soft Plastic Balers are widely used for compressing all kinds of soft plastics like PE/PP films. Pressure: 30-50 tons or more Feed Opening Size: (1100-1200)*500mm Baling Chamber Height: 1400-1500mm Bale Weight: 60-350kgs

view
Steel/Oil Drum Baler

December 14, 2020

Steel/ Oil Drum Baler with spikes in the press plate can easily compress various steel drums without explosive content up to 200L, greatly save space and convenient for transportation. Pressure: 20 tons Baling Chamber Size: 760*760*1100mm Bale Size:

view
Vertical Cutting Balers

November 16, 2016

Vertical Cutting Balers are specialized in cutting the materials into small pieces like: different kinds of rubber, plastic etc. Pressure: Up to 150 tons Power: 15kw/ 22kw Baling Chamber Height: Min. 1030mm, Max.1530mm Feed Opening Size: Min.1000*10

view